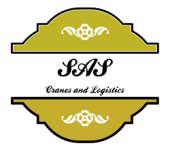 Sas Cranes and Logistics LLC
Anna Palmer - Business Development Manager
617-419-7147
Alt Phone: 617-308-2154
1 Boston St #2600, Boston, MA 02127, USA
Seller's most-viewed cranes
Sas Cranes and Logistics LLC
SAS Cranes and Logistics LLC is a USA based company with an extensive base of clients around the world offering over 20 years of expertise in export crane sales.
SAS Cranes and Logistics LLC was established to meet the growing demand for affordable used cranes in Usa/EuropeAsia /Middle East. Our Logistics, Heavy Haul division, was formed to transport these cranes to the nearest port for shipment overseas.
Our staff prepares all necessary export documents to ensure a seamless delivery of the cranes to the port. Contact us for all of your crane and transportation needs. Allow us to be your first option and stop source for the purchase of your next crane.
If you have cranes to sell, trade-in, or place on consignment, we would also like to hear from you! Send us your list, including make, model, year, and your best price.
Quality Service and Satisfaction!