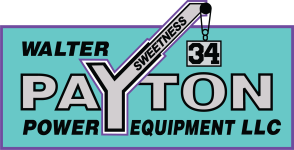 Walter Payton Power Equipment, LLC
Bradley Wunderlich - Sales Coordinator
708-656-7700
Alt Phone: 800-922-5508
Fax: 708-532-1273
930 West 138th Street, Riverdale, IL 60827, USA
Seller's most-viewed cranes
Seller's most-viewed parts
Walter Payton Power Equipment, LLC
Walter Payton Power Equipment is the LARGEST MIDWEST CRANE DEALER
& Top Manitowoc Dealer 5 Years In A Row.
Sales & Rental | New & Used | 24/7 Parts & Service Support
Cranes & Equipment
We are your one source for new and pre-owned heavy equipment, parts and attachments from leading manufactures including Manitowoc, Grove, National, Manitou, Manitex, Xtreme and Talbert.
We offer All-Terrain Cranes, Boom Truck Cranes, Carry Deck Cranes, Lattice Boom Crawlers, Rough Terrain Cranes, Telehandlers, and more! To view all our heavy equipment, visit: https://www.wppecrane.com/equipment/
Parts & Full Service
Walter Payton Power Equipment's factory-trained PARTS AND SERVICE TEAM is dedicated to providing the best customer experience in the industry. On call service 24 hours, 7 days a week. Services include, but not limited to; Advanced Certified Welding, Crane Inspections, Equipment Painting and Equipment Refurbishment. Visit https://www.wppecrane.com/service/ to learn more.
A LITTLE HISTORY: The company carries on the name of our founder, the legendary great Chicago Bears running back and Hall of Famer Walter Payton a.k.a., SWEETNESS.