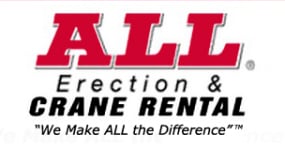 All Erection & Crane Rental Corp.
Shaune Rados - Director of Sales
216-524-6550
Alt Phone: For Parts, Call 216-524-6559
Fax: 216-525-3683
Cleveland, OH 44125, USA
Seller's most-viewed cranes
Seller's most-viewed parts
All Erection & Crane Rental Corp.
When You Need to Buy Lift Equipment . . . . . Whether you're considering used or new equipment . . . . . . ALL ERECTION & CRANE RENTAL is the dealer to choose. Why? Purchasing a piece of equipment can represent a sizable long-term investment for your company. So, you need a long-term partner to help you get the highest return for your dollar.

With ALL, you can be sure you're getting the best value. And you are guaranteed the peace of mind that comes from working with a trusted resource in the industry. Let us be your link between the cranes, aerial lifts, boom trucks, and other lift equipment we sell and your total satisfaction.

When it comes to financing, we remove the hassle and the headache.

The ALL Advantage . . . . We continually reinvest in our business with the best equipment, training, and technology to help us serve you better. We keep up with changes in the industry and align ourselves with your needs. It's what you should expect when you choose ALL to purchase equipment.

Cranes for Sale Now . . . . Auctions, brokers, web sales, and other site-unseen or third-party sellers give you access to what they have...and that's it. But do you know what you are buying? Do you get the value you need....long-term value? Know what you are buying. You should ask tough questions about the seller of any heavy equipment and understand that you often pay later for buying cheap today. We rebuild and maintain like new. Big cranes and small - we offer real value on used cranes, used aerials, used boom trucks, used forklifts, used scissor lifts, and more. Call us for pricing and delivery options for our cranes for sale fleet.