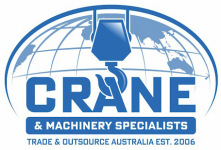 Trade And Outsource Australia Pty Ltd
Dhruv Bajaj
+61411034788
Alt Phone: +61288611660
310/11-13 Solent Cct, Baulkham Hills NSW 2153, Australia
Trade And Outsource Australia Pty Ltd
We are a Sydney (Australia) based used crane sales company operating since 2006. We have export a few hundred cranes to Middle East, Far East and the Indian Subcontinent.
We can source quality equipment for you and have cranes in stock as well.
Please contact us to find out how we can help you better.