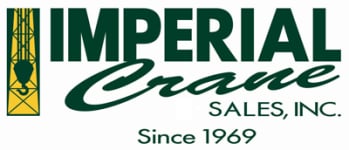 Imperial Crane Sales, Inc.
Jeff Bohne - President
708-598-2300
Alt Phone: 708-267-9006
Fax: 708-598-2313
9735 Industrial Drive, Bridgeview, IL 60455, USA
Seller's most-viewed cranes
Imperial Crane Sales, Inc.
Since 1992, Imperial Crane Sales, a division of Imperial Crane Services, Inc. has been selling quality new & used cranes. Whether you are looking for new cranes or used equipment, Imperial Crane has a variety of quality machines that will meet your lifting needs. We've become one of the largest crane companies in the world.
Whether it's the famed Trump Tower, Citgo Petroleum Plant, British Petroleum Refinery, or a common daily taxi rental service in the tough American marketplace, Imperial Crane will rise to the occasion every time. With their enormous fleet, they have proudly completed thousands of projects with impeccable performance while consistently delivering to their clients the highest levels of safety in the industry.
Imperial Crane Services, Inc. has been predominantly committed to manufacturing and heavy industries. We have also systematically managed to command a formidable position in the ever-growing construction and infra structure sector.
Our commitment to excellence is the most integral component in our daily operations. This means that we are dedicated to the highest standards in safety, service and quality. From the receptionist to the foreman, that commitment shows through our remarkable customer service, our state-of-the-art technology and the safest equipment and procedures anywhere in the world. Our greatest resource is our people and their dedication is what has made Imperial Crane a trailblazer in this industry.
By constantly updating our equipment and procedures, we aim to be the safest crane service company in the world. We are the recipient of numerous safety awards each year from accredited organizations such as American Subcontractors Association, Three Rivers Manufacturer's Association and Specialized Crane and Rigging Association. We ensure that along with our state-of-the-art equipment, our employees are the most skilled and highly-trained in the industry. This has allowed Imperial Crane to rise above the competition.