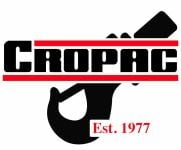 Cropac Equipment, Inc.
Johnathan Vieira
800-427-6722
Fax: 905-825-5264
1007 S Service Rd W, Oakville, ON L6L 6R3, Canada
Seller's most-viewed cranes
Seller's most-viewed parts
Cropac Equipment, Inc.
For over 35 years, Cropac Equipment has been committed to customer service, and we firmly believe it's all about your equipment working for you, Cropac are the crane experts.  Our factory-trained technicians not only service everything we sell, but what our competitors sell as well.  We appreciate your business and want you to visit our state-of-the-art Service Facilities in Oakville, Ontario, Laval, Quebec, and Nisku, Alberta.   For directions please call us at 1-800-4CROPAC, that's 1-800-427-6722, or visit our web site at www.cropac.com.   
Cropac Equipment is North America's largest Manitex dealer, and Canada's largest factory-authorized distributor for Terex and Demag cranes. The complete lineup includes truck cranes, all terrain cranes, and rough terrain cranes.  We also carry crawler cranes by Kobelco and American Crawler; as well as tower cranes by Peiner and Commedil.  Cropac Equipment is the authorized distributor for Potain self-erect tower cranes, Tadano boom trucks and rough terrain cranes, Mantis tele-boom crawlers, Shuttlelift mobile gantry cranes and Taylor Machine Works Industrial lift trucks.  
No matter the color of your crane or the name on it, we can supply you with OEM parts; please try Cropac for those hard to find parts.  Cropac also sells used equipment. We search the world for products, so we can offer our customers crane solutions suiting their budgets.  For a current list of used equipment, visit our website: www.cropac.com, and click on Cranes for Sale.  If you don't see what you need, let us know and we will find it for you.
Whether your business is in transportation, forestry, steel processing, rigging, heavy materials movement or marina storage, call us at: 1-800-427-6722, and we can discuss material handling solutions.  Cropac Equipment has Taylor lift trucks from 8 to 60 ton and Shuttlelift Mobile Gantry cranes from 15 ton to one thousand ton to meet your needs.
Cropac maintains inventory of various equipment, such as:
New boom trucks ranging from 17 to 80 ton, as well as the new 80 ton Terex Crossover 8000, with a 126 foot main boom length, and a 189 foot maximum tip height.

New Kobelco 85, 110, and 160 ton crawler cranes.

All-terrain cranes from 40 to 400 ton, including the new Demag AC-350;

Rough Terrain cranes from 15 to 160 ton capacity.
For the latest news and updates regarding Cropac Equipment Inc, please check out our Twitter feed by adding @CropacEquipment, or check us out on Facebook by searching for Cropac Equipment Inc.  Cropac, we are the crane experts.