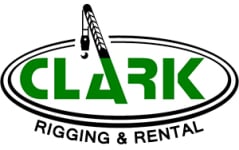 Clark Rigging & Rental Corp.
Dave Baran - Sales Manager
585-265-2910 ext 104
Fax: 716-433-4629
500 Ohio Street, Lockport, NY 14094, USA
Seller's most-viewed cranes
Clark Rigging & Rental Corp.
Servicing all of Central and Western New York to the Southern Tier and Northern Pennsylvania, Clark Rigging & Rental Corporation has been a leader in the crane rental industry since 1954.
With our Head Office in Lockport, NY and branch operations in Rochester and Syracuse, NY we are your local, full service lifting rental house. From job site analysis, to transportation, to providing manpower to run and maintain our equipment on the job, Clark Rigging & Rental is here for you 24 hours a day, 7 days a week.
We are constantly expanding and upgrading our fleet with the newest, safest, top-quality equipment available. Clark Rigging and Rental's fleet includes all-terrain, hydraulic truck, crawler, rough-terrain, and industrial cranes. We also offer a variety of boom trucks, and telescopic and straight mast forklifts. Clark Rigging and Rental also provides factory authorized service for Tadano Cranes and Square Shooter fork lifts.
Please take the time to look through our latest Equipment Guide to see for yourself why Clark Rigging and Rental is the leader in equipment rental and sales in New York State.
From its start in 1954, Clark Rigging and Rental Corp. has grown to become one of North America's largest crane rental supply companies. Our equipment fleet and years of expertise offer a safe, competitive advantage to heavy lift projects throughout New York State and Northern Pennsylvania.