1985 P&H CN128 Rough Terrain Crane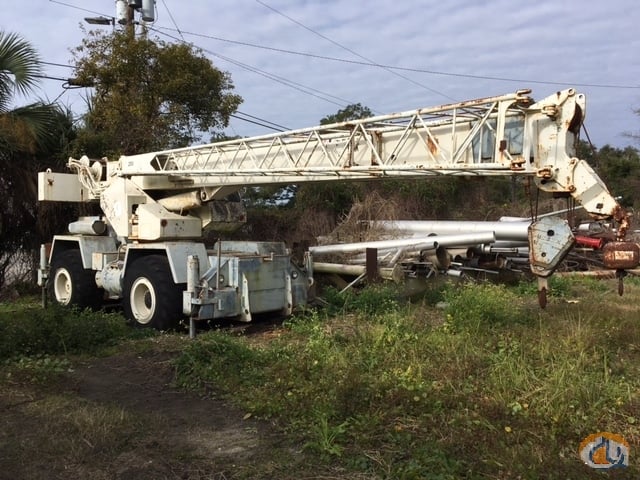 ---
Crane Dude
James Roger: 678-810-0874
Last Updated: 05 Mar 2019
---
Location: Duluth, Georgia, United States
Year: 1985
Capacity: 28.00
Boom/Jib: 90
Condition: Fair

---
1985 P&H CN128 28t Rough Terrain Crane
29-90ft Boom 4 sections 
Swing Away Jib 25ft 
Lower Cummins 6BT 5.9L 130HP Watercooled. Engine Has Not Been Ran For a Few Years
Transmission Clark (Transmission Is Bad)
Counterweight 7,800lbs
Main and Auxiliary Winch
3-Sheave Block (Please-Inspect)
Ball hook
4x4 Drive 
MAKE US AN OFFER!
---
This crane was posted by:


Crane Dude
www.cranedude.com
Contact: James Roger
Phone: 678-810-0874
Alt Phone: 404-845-7740
Fax: 206-339-8601
0 views this week
0 people have saved

James Roger, 678-810-0874
Crane Dude
Make Offer
Get Financing
1985 P&H CN128 28t Rough Terrain Crane
29-90ft Boom 4 sections 
Swing Away Jib 25ft 
Lower Cummins 6BT 5.9L 130HP Watercooled. Engine Has Not Been Ran For a Few Years
Transmission Clark (Transmission Is Bad)
Counterweight 7,800lbs
Main and Auxiliary Winch
3-Sheave Block (Please-Inspect)
Ball hook
4x4 Drive 
MAKE US AN OFFER!
Year: 1985
Boom: 90'
Capacity: 28.00
Condition: Fair
Location: Duluth Georgia USA
View the manufacturer specifications here: P&H CN128 Specs

James Roger, 678-810-0874
Crane Dude
Make Offer
Get Financing