2019 Tadano Mantis GTC-600 Crawler Lattice Boom Crane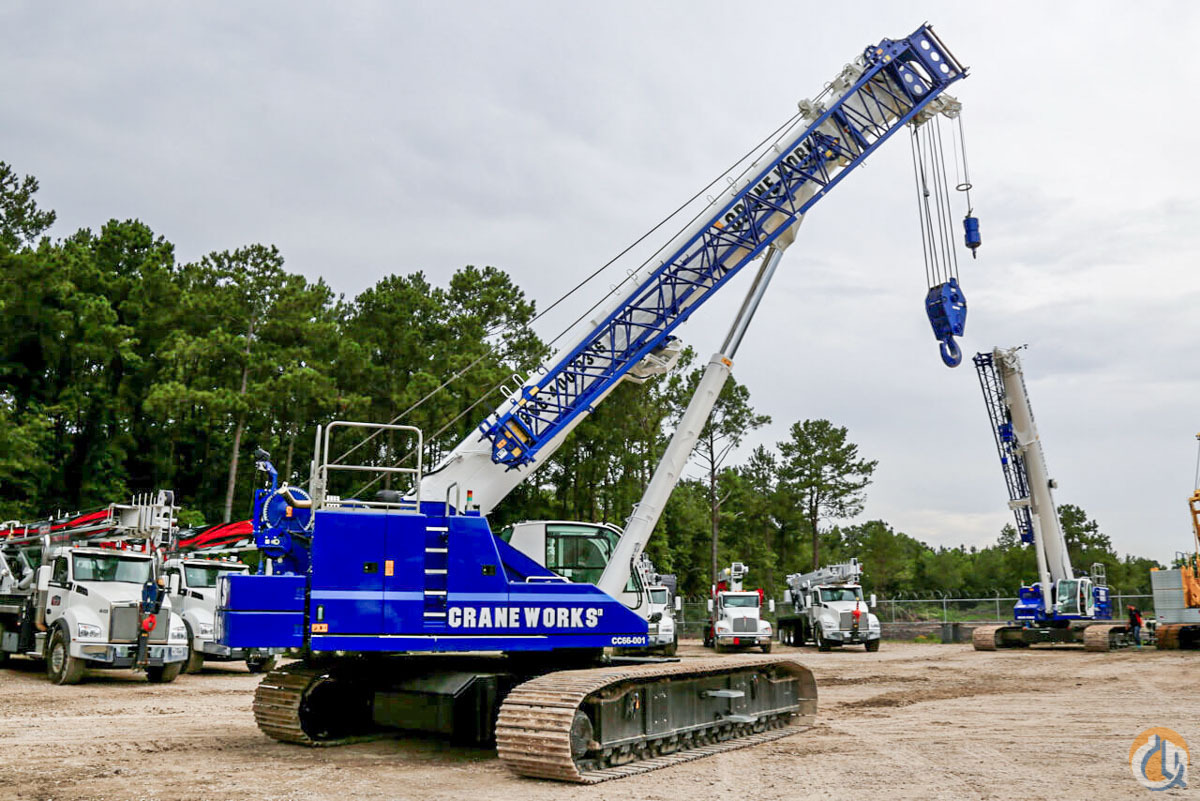 ---
CraneWorks, Inc.
Sales Dept.: 866-458-5915
Last Updated: 28 Jan 2023
---
Location: Houston, Texas, United States
Year: 2019
Capacity: 66.00
Boom/Jib: 118
Hours: 1634
Condition: Very Good
Serial #: 600-123
Unit #: CC66-001

---
66-tons pick-and-carry capacity through 360°.
Two-piece bi-fold (33.1′ / 58.1') lattice boom extension & offsettable jib for up to 182.1 ft tip height
Heavy Lift Jib – 8.2 ft, 44,800 lb maximum capacity
Tadano AML-C LMI system
OPTI-WIDTH™ – OPTIMAL lifting performance at any track WIDTH
Work area limitations with soft stop
Winches with grooved drums, cable followers and 3rd wrap shutdown
Self Erecting Crane
Unladen ground bearing pressure of 9.8 psi
Hydraulic on-the-fly track frame retraction and extension
Hello-Net Telematics
3 remote control work lights
3 video cameras for winch view, rear view, and right side view
---
This crane was posted by:


CraneWorks, Inc.
www.Crane-Works.com
Contact: Sales Dept.
Phone: 866-458-5915
Fax: 713-491-9359
0 views this week
0 people have saved
66-tons pick-and-carry capacity through 360°.
Two-piece bi-fold (33.1′ / 58.1') lattice boom extension & offsettable jib for up to 182.1 ft tip height
Heavy Lift Jib – 8.2 ft, 44,800 lb maximum capacity
Tadano AML-C LMI system
OPTI-WIDTH™ – OPTIMAL lifting performance at any track WIDTH
Work area limitations with soft stop
Winches with grooved drums, cable followers and 3rd wrap shutdown
Self Erecting Crane
Unladen ground bearing pressure of 9.8 psi
Hydraulic on-the-fly track frame retraction and extension
Hello-Net Telematics
3 remote control work lights
3 video cameras for winch view, rear view, and right side view
Year: 2019
Boom: 118'
Capacity: 66.00
Condition: Very Good
Hours: 1634
Unit #: CC66-001
Serial #: 600-123
Location: Houston Texas USA