2023 Manitex TC50155HL Boom Truck Crane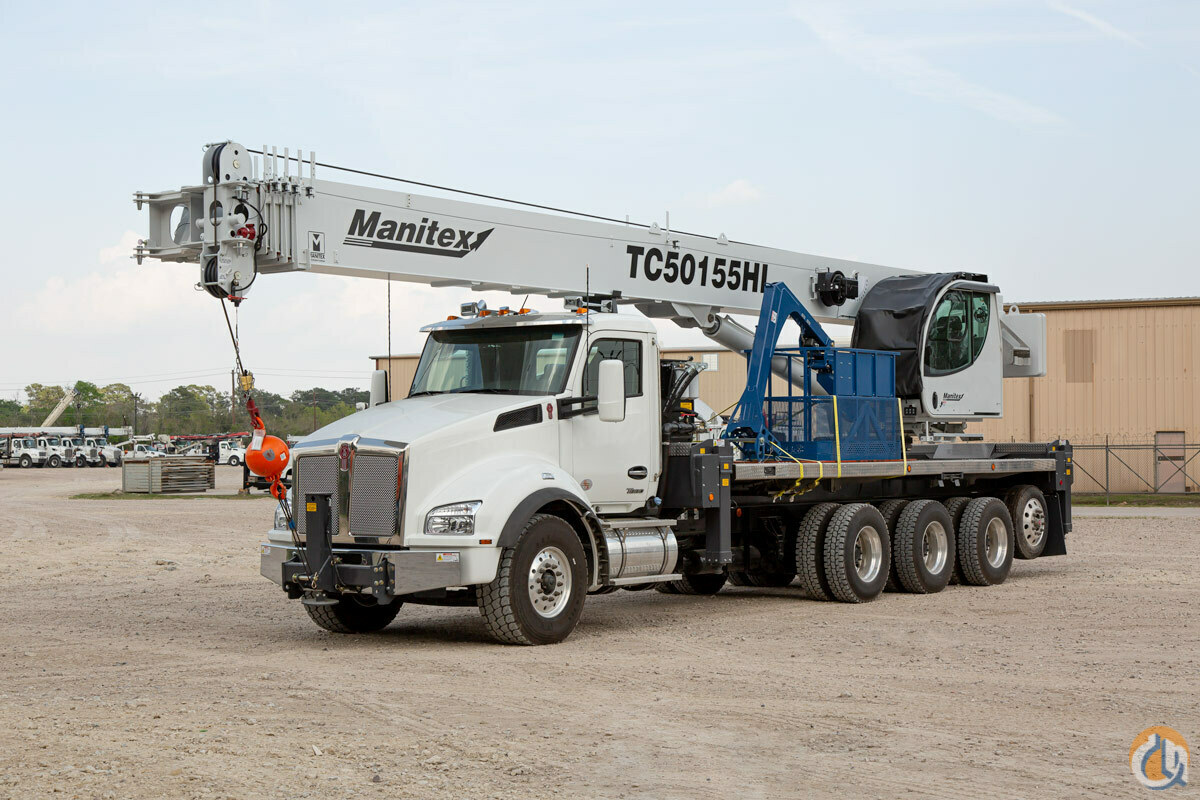 ---
CraneWorks, Inc.
Sales Dept.: 866-458-5915
Last Updated: 28 Mar 2023
---
Location: Houston, Texas, United States
Year: 2023
Capacity: 50.00
Condition: New
Serial #: 313423
Unit #: BM-4379

---
Features
4 or 5 Section Telescopic Boom
2-speed Hoist w/ Grooved Drum, Roller
Tensioner, Piston Motor
4-Load Sheave Quick Reeve Boom Head
Externally Wired Anti-Two Block w/ Lockout
Boom Hoist Cylinder
System Pressure Gauge
360° Area of Operation
Continuous Rotation
Tilting Cab
Heater/Air Conditioner
Upper Hatch Guard/Windshield Cover
Engine Monitoring System
Removable Boom Rest
Engine Start/Stop
Combined Free Swing and Non-Free Swing
Functionality
Hydraulic Rotation
Drum Indicator
Thumb Operated Electronic Throttle
1-Variable Displacement Pump/1-Gear Pump-CCW Rotation-Std
Boom Length and Angle Indicators
Radio Remote Ready
7 Ton (6,4 mt) Hook and Ball (201/250 LBS 60',90',110') (300/325 LBS 128' & 155') 400' (122m) 5/8" (16mm) Dia. Rotation Resistant
Wire Rope (5060, 5096 & 50110) 500' (152m), 5/8" (16mm) Dia. Rotation Resistant
Wire Rope (50128, 50155)
Audible Outrigger Motion Alarm115-Gal (435 L) or 155 Gal (586 L) Hyd.
Reservoir w/Suction Strainer & Ball Valve
Turret, Rotation Bearing & Swing System -Mechanical House lock
New Load Moment Indicator -Full Visual/Audio
Capacity Alert w/Shutoff
ROC Solid outriggers; 4 Out-And-down outriggers, 22' (6.71m) over-all spread.
Features a Hand Held Radio Operated
Controller and includes capacities for Intermediate 13'4" (4.05m) and Retracted 7'2" (2.18m) Spreads.
Remote Winch Controls included with Hand Held
Radio Controller for the outriggers
Outrigger Monitoring System -Verification Only
Front Bumper Stabilizer -for Short lower frame configurations only
Third Wrap Limit for Main Winch and Auxiliary
Winch
Electric over Hydraulic Controls
Operator's Service/Parts Manuals
102" Wide Platform Standard
2 Retractable Ladders / 1-Aluminum Easy
Access Maintenance Ladder
Diamond Plated Aluminum Decking
Oil Cooler, Bubble Level, Signal Horn



Included options
155' Five Section Telescopic Boom with Heavy Lift Option
TC50155HL -5700 CTWT STD
Hischman LMI System (Standard)
4720 Lb. Cwt Special for HL -Requires Engineering approval
Offset Fixed Jib (QA)
Front Bumper Stabilizer
Standard Mount Installation
Braden Winch w/ Piston Motors in Lieu of Standard
35 ton 3-Sheave Hook Block 1-7 Part Line
Hot shift PTO (Required with Automatic Transmission)
Hydraulic Tank Mount In lieu of Standard mounting O/R Top Mount
2 Person (1200 lb. cap) Lightweight Steel, Rotating, Quick-Attach Basket
(All models)
(QA)


---
This crane was posted by:


CraneWorks, Inc.
www.Crane-Works.com
Contact: Sales Dept.
Phone: 866-458-5915
Fax: 713-491-9359
0 views this week
0 people have saved
Features
4 or 5 Section Telescopic Boom
2-speed Hoist w/ Grooved Drum, Roller
Tensioner, Piston Motor
4-Load Sheave Quick Reeve Boom Head
Externally Wired Anti-Two Block w/ Lockout
Boom Hoist Cylinder
System Pressure Gauge
360° Area of Operation
Continuous Rotation
Tilting Cab
Heater/Air Conditioner
Upper Hatch Guard/Windshield Cover
Engine Monitoring System
Removable Boom Rest
Engine Start/Stop
Combined Free Swing and Non-Free Swing
Functionality
Hydraulic Rotation
Drum Indicator
Thumb Operated Electronic Throttle
1-Variable Displacement Pump/1-Gear Pump-CCW Rotation-Std
Boom Length and Angle Indicators
Radio Remote Ready
7 Ton (6,4 mt) Hook and Ball (201/250 LBS 60',90',110') (300/325 LBS 128' & 155') 400' (122m) 5/8" (16mm) Dia. Rotation Resistant
Wire Rope (5060, 5096 & 50110) 500' (152m), 5/8" (16mm) Dia. Rotation Resistant
Wire Rope (50128, 50155)
Audible Outrigger Motion Alarm115-Gal (435 L) or 155 Gal (586 L) Hyd.
Reservoir w/Suction Strainer & Ball Valve
Turret, Rotation Bearing & Swing System -Mechanical House lock
New Load Moment Indicator -Full Visual/Audio
Capacity Alert w/Shutoff
ROC Solid outriggers; 4 Out-And-down outriggers, 22' (6.71m) over-all spread.
Features a Hand Held Radio Operated
Controller and includes capacities for Intermediate 13'4" (4.05m) and Retracted 7'2" (2.18m) Spreads.
Remote Winch Controls included with Hand Held
Radio Controller for the outriggers
Outrigger Monitoring System -Verification Only
Front Bumper Stabilizer -for Short lower frame configurations only
Third Wrap Limit for Main Winch and Auxiliary
Winch
Electric over Hydraulic Controls
Operator's Service/Parts Manuals
102" Wide Platform Standard
2 Retractable Ladders / 1-Aluminum Easy
Access Maintenance Ladder
Diamond Plated Aluminum Decking
Oil Cooler, Bubble Level, Signal Horn



Included options
155' Five Section Telescopic Boom with Heavy Lift Option
TC50155HL -5700 CTWT STD
Hischman LMI System (Standard)
4720 Lb. Cwt Special for HL -Requires Engineering approval
Offset Fixed Jib (QA)
Front Bumper Stabilizer
Standard Mount Installation
Braden Winch w/ Piston Motors in Lieu of Standard
35 ton 3-Sheave Hook Block 1-7 Part Line
Hot shift PTO (Required with Automatic Transmission)
Hydraulic Tank Mount In lieu of Standard mounting O/R Top Mount
2 Person (1200 lb. cap) Lightweight Steel, Rotating, Quick-Attach Basket
(All models)
(QA)


Year: 2023
Capacity: 50.00
Condition: New
Unit #: BM-4379
Serial #: 313423
Location: Houston Texas USA