2018 Manitex TC40142 Boom Truck Crane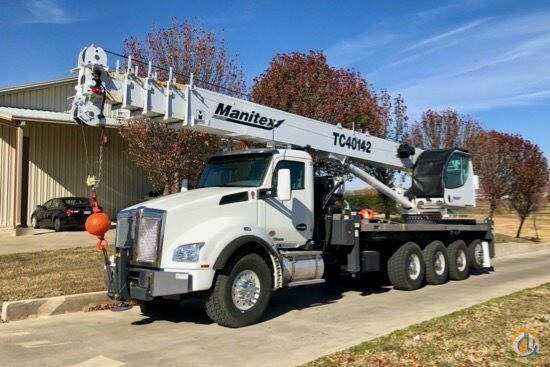 ---
CraneWorks, Inc.
Sales Dept.: 866-458-5915
Last Updated: 29 May 2023
---
Location: Haslet, Texas, United States
Year: 2018
Capacity: 40.00
Boom/Jib: 142
Hours: 1813
Condition: Very Good
Serial #: 257921
Unit #: 40-037

---
Features

40 Ton Capacity

5-Section 142' (43,3 m)

2-Section 31' (9,4 m) to 55' (16,8 m) Telescopic Jib

204' (62,1 m) Maximum tip Height with Telescope Jib 152' (46,3 m) Maximum Main Boom Tip Height

Self-Lubricating Boom Slider Pads

Wired Anti-Two Block System – Audible warning and shutoff functions prevent hook form contacting boom point. Switch is potted to ensure reliability.

wo Speed Planetary Grooved Drum Hoist With Negative Draft Flange and Rope Tensioner

Auxiliary Hoist Option

Hoist Drum Rotation Indicator

Third Wrap Limiter under the Hoist Drum Rotation Indictor

Deluxe Cab with heater, air conditioning, heated cloth seat, 8 seat adjustments, top hinged hatch, rear pop out window, with guard. Front and top windshield wipers, 12 Volt DC outlet, USB ports and engine monitoring system.

PLC crane controller, CANBUS communication, J1939 truck engine communication, electric hand and foot throttle, twin dual axis joysticks, electric/hydraulic valve actuation, electronic sensor monitoring.

Free Swing-No-Free Swing Gear Switch

Continuous Rotation

360º Work Area

ROCSolid Outriggers feature Radio Remote Outrigger Controls, Audible Outrigger Motion Alarm

Retracted, Intermediate And Fully Extended Outrigger Load Charts

Load Chart On Tires Over The Rear

Wired LMI with crane function cut-offs for overload protection, graphical display, event recorder, WADS – Work Area Definition System

Back-up Alarm – supplied on factory-mounted cranes, electronic audible motion alarm activated when truck transmission is in reverse gear.

Externally Wired Anti-Two Block System

Rugged, Weatherproof, Automotive Style Electrical System

Hydraulic Oil Cooler

Clamp-On Mounting

Design Meets ANSI B30.5 Recommendations

Manitex UPTime Comprehensive Support
---
This crane was posted by:


CraneWorks, Inc.
www.Crane-Works.com
Contact: Sales Dept.
Phone: 866-458-5915
Fax: 713-491-9359
0 views this week
0 people have saved
Features

40 Ton Capacity

5-Section 142' (43,3 m)

2-Section 31' (9,4 m) to 55' (16,8 m) Telescopic Jib

204' (62,1 m) Maximum tip Height with Telescope Jib 152' (46,3 m) Maximum Main Boom Tip Height

Self-Lubricating Boom Slider Pads

Wired Anti-Two Block System – Audible warning and shutoff functions prevent hook form contacting boom point. Switch is potted to ensure reliability.

wo Speed Planetary Grooved Drum Hoist With Negative Draft Flange and Rope Tensioner

Auxiliary Hoist Option

Hoist Drum Rotation Indicator

Third Wrap Limiter under the Hoist Drum Rotation Indictor

Deluxe Cab with heater, air conditioning, heated cloth seat, 8 seat adjustments, top hinged hatch, rear pop out window, with guard. Front and top windshield wipers, 12 Volt DC outlet, USB ports and engine monitoring system.

PLC crane controller, CANBUS communication, J1939 truck engine communication, electric hand and foot throttle, twin dual axis joysticks, electric/hydraulic valve actuation, electronic sensor monitoring.

Free Swing-No-Free Swing Gear Switch

Continuous Rotation

360º Work Area

ROCSolid Outriggers feature Radio Remote Outrigger Controls, Audible Outrigger Motion Alarm

Retracted, Intermediate And Fully Extended Outrigger Load Charts

Load Chart On Tires Over The Rear

Wired LMI with crane function cut-offs for overload protection, graphical display, event recorder, WADS – Work Area Definition System

Back-up Alarm – supplied on factory-mounted cranes, electronic audible motion alarm activated when truck transmission is in reverse gear.

Externally Wired Anti-Two Block System

Rugged, Weatherproof, Automotive Style Electrical System

Hydraulic Oil Cooler

Clamp-On Mounting

Design Meets ANSI B30.5 Recommendations

Manitex UPTime Comprehensive Support
Year: 2018
Boom: 142'
Capacity: 40.00
Condition: Very Good
Hours: 1813
Unit #: 40-037
Serial #: 257921
Location: Haslet Texas USA
View the manufacturer specifications here: Manitex TC40142 Specs