2023 Manitex 50128 SHL Boom Truck Crane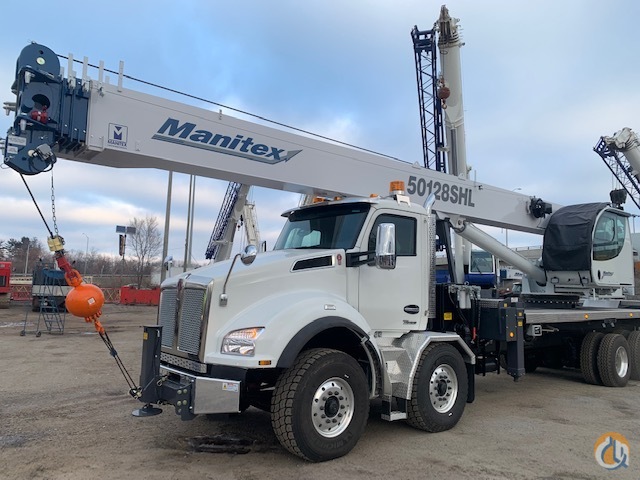 ---
Cropac Equipment, Inc.
Liam Finkle: 905-825-6377
Last Updated: 23 Jan 2023
---
Location: Oakville, Ontario, Canada
Year: 2023
Capacity: 50.00
Boom/Jib: 128
Condition: New
Serial #: 308262

---
50 ton capacity swing cab

128' four section full powered main boom

Two piece 32' – 49' jib with offsets

2-speed Hoist w/ Grooved Drum 

Rotation Resistant Wire Rope ⅝" diameter

Hydraulic Rotation Drum Indicator

5 Ton (4.5 mt) Hook and Ball

35 Ton three sheave quick reeve hook block, 4-Load Sheave Quick Reeve Boom Head

Deluxe operators cab with 20 degree tilt 

Pilot Controls, diesel heater and Air Conditioning

Heated fully adjustable seat 

Engine Monitoring System - Display in upper cab

Full LMI with with all function visual and audible alerts with cutouts

Hard Wired Anti-Two Block w/ Lockout

Engine Start/Stop, Electronic Throttle

Combined free swing and non free swing function

Hydraulic Oil Cooler

4 Out-And-down outriggers,  22' over-all spread, with mid span and fully retracted.

Front outrigger 360° Area of Operation, Continuous Rotation

Radio hand held remote outrigger controller.

Aluminum Step Ladder Diamond Plated Aluminum Decking

36" aluminum tool box
Mounted on a new 2023 Kenworth T880 Tan Tan Ultrashift
Cummins X15 500HP diesel engine

Eaton Fuller FO18E318BMXP Ultrashift transmission

40,000 lbs front axle

46,000 lbs rear axle

Rear axle ratio -3.91

Front tires: MN XZY3 425/65R22.5 20PR

Rear tires: BR M843 11R22.5 16PR

120 US gal aluminum fuel tank

Heater/air conditioning/defroster

AM/FM/WB/USB/Bluetooth
---
This crane was posted by: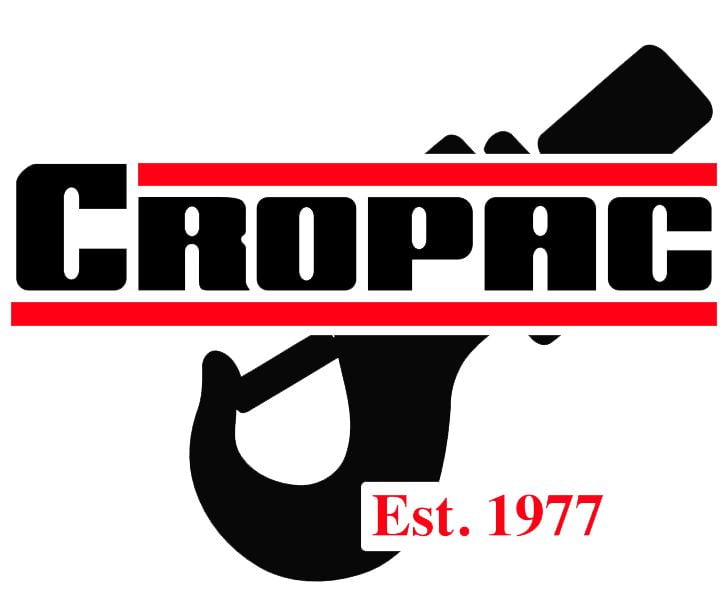 Cropac Equipment, Inc.
www.cropac.com
Contact: Liam Finkle
Phone: 905-825-6377
Fax: 905-825-5264
0 views this week
0 people have saved
50 ton capacity swing cab

128' four section full powered main boom

Two piece 32' – 49' jib with offsets

2-speed Hoist w/ Grooved Drum 

Rotation Resistant Wire Rope ⅝" diameter

Hydraulic Rotation Drum Indicator

5 Ton (4.5 mt) Hook and Ball

35 Ton three sheave quick reeve hook block, 4-Load Sheave Quick Reeve Boom Head

Deluxe operators cab with 20 degree tilt 

Pilot Controls, diesel heater and Air Conditioning

Heated fully adjustable seat 

Engine Monitoring System - Display in upper cab

Full LMI with with all function visual and audible alerts with cutouts

Hard Wired Anti-Two Block w/ Lockout

Engine Start/Stop, Electronic Throttle

Combined free swing and non free swing function

Hydraulic Oil Cooler

4 Out-And-down outriggers,  22' over-all spread, with mid span and fully retracted.

Front outrigger 360° Area of Operation, Continuous Rotation

Radio hand held remote outrigger controller.

Aluminum Step Ladder Diamond Plated Aluminum Decking

36" aluminum tool box
Mounted on a new 2023 Kenworth T880 Tan Tan Ultrashift
Cummins X15 500HP diesel engine

Eaton Fuller FO18E318BMXP Ultrashift transmission

40,000 lbs front axle

46,000 lbs rear axle

Rear axle ratio -3.91

Front tires: MN XZY3 425/65R22.5 20PR

Rear tires: BR M843 11R22.5 16PR

120 US gal aluminum fuel tank

Heater/air conditioning/defroster

AM/FM/WB/USB/Bluetooth
Year: 2023
Boom: 128'
Capacity: 50.00
Jib: 49'
Condition: New
Serial #: 308262
Location: Oakville Ontario Canada
View the manufacturer specifications here: Manitex 50128 SHL Specs