2023 Manitex 26101 C Boom Truck Crane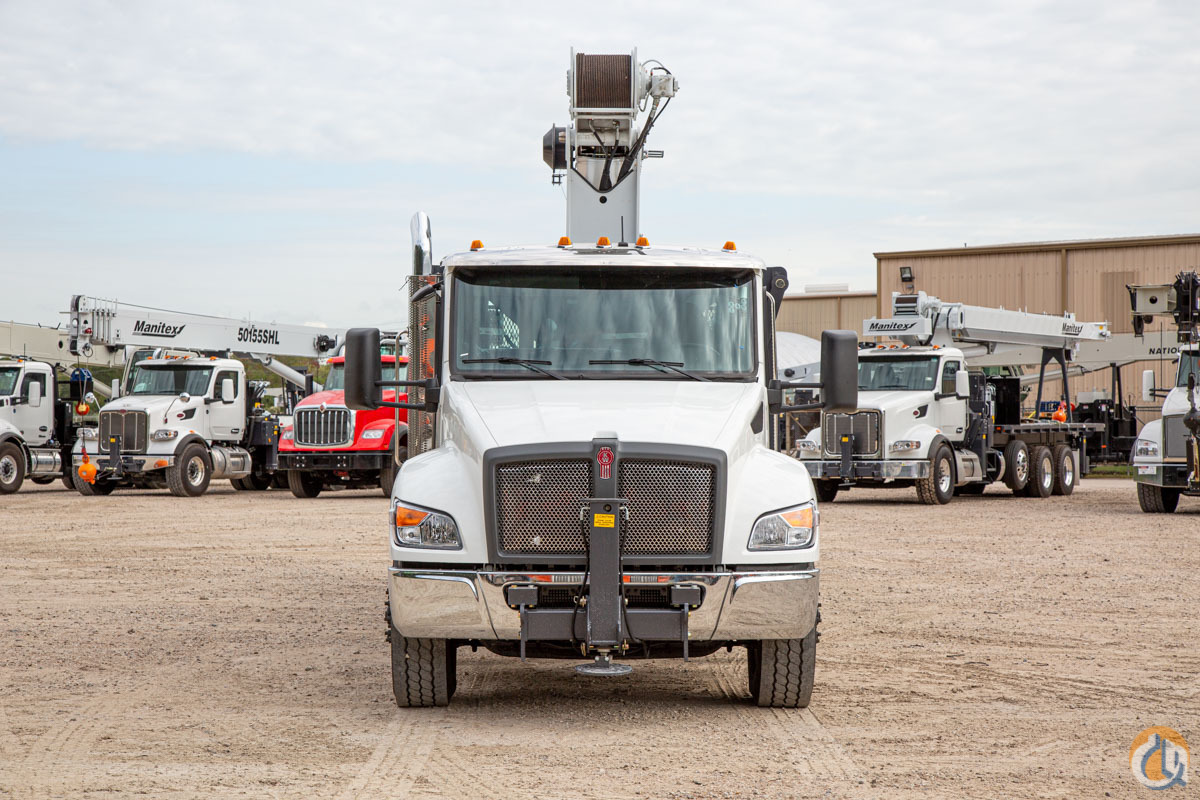 ---
CraneWorks, Inc.
Sales Dept.: 866-458-5915
Last Updated: 07 Feb 2023
---
Location: Houston, Texas, United States
Year: 2023
Capacity: 26.00
Condition: New
Serial #: 307532
Unit #: BM-4034

---
Features
* 4-Section Telescopic Boom
*2-speed Hoist w/ Grooved Drum
*7 Ton (4.5 mt) Hook and Ball
*3-Load Sheave Quick Reeve Boom Head
*Externally Wired Anti Two Block
*Boom Hoist Cylinder
*System Pressure Gauge
*372° Non Continuous Rotation
*Removable Boom Rest
*Engine Start/Stop
*Operator's Service/Parts Manuals
*Boom Length and Angle Indicators
*Function Overload Shutoff
*Electronic Throttle
*Bubble Level
*300' of 9/16" (14.3mm) EIPS IWRC Wire Rope
*70 Gallon (265 liter) Reservoir Standard is Bed
Mounted
w/Suction Strainer &
Ball Valve
*Pedestal, Turret, Rotation Bearing & Swing
System
*Dual Operator Control Stations
*Load Moment Indicator -Audio/Visual Alert w/Shutoff
*Audible Outrigger/Stabilizer Motion Alarm
*A-frame Outriggers (21' 6" Spread Width)
*A-frame Rear Stabilizers
*Outrigger Monitoring System for Verification only.
*Subframe for 22' (6.71 m) Bed
*3-Section Hydraulic Gear Pump Counterclockwise Rotation is Standard
*Signal Horn


Included options
101' Four-section Telescopic Boom
1 Piece 29' Jib (101') (G/RS) -Externally Wired A2B
22' Steel Bed with 1/8" thick Steel Thread Plate
Standard Mount Installation
3 Section Vane Pump Clockwise Rotation (Required with Automatic Transmissions)
Hotshift PTO (Required with Automatic Transmission)
Drive Shaft for Pump Installation (Required with Automatic Transmission)
15 ton 1-Sheave Quick Reeve Block for 2-3 part line 9/16" Rope
Chassis Mounted Hydraulic Reservoir (in lieu of standard)
Front Center Stabilizer (Requires Additional Mounting Charge)


---
This crane was posted by:


CraneWorks, Inc.
www.Crane-Works.com
Contact: Sales Dept.
Phone: 866-458-5915
Fax: 713-491-9359
0 views this week
0 people have saved
Features
* 4-Section Telescopic Boom
*2-speed Hoist w/ Grooved Drum
*7 Ton (4.5 mt) Hook and Ball
*3-Load Sheave Quick Reeve Boom Head
*Externally Wired Anti Two Block
*Boom Hoist Cylinder
*System Pressure Gauge
*372° Non Continuous Rotation
*Removable Boom Rest
*Engine Start/Stop
*Operator's Service/Parts Manuals
*Boom Length and Angle Indicators
*Function Overload Shutoff
*Electronic Throttle
*Bubble Level
*300' of 9/16" (14.3mm) EIPS IWRC Wire Rope
*70 Gallon (265 liter) Reservoir Standard is Bed
Mounted
w/Suction Strainer &
Ball Valve
*Pedestal, Turret, Rotation Bearing & Swing
System
*Dual Operator Control Stations
*Load Moment Indicator -Audio/Visual Alert w/Shutoff
*Audible Outrigger/Stabilizer Motion Alarm
*A-frame Outriggers (21' 6" Spread Width)
*A-frame Rear Stabilizers
*Outrigger Monitoring System for Verification only.
*Subframe for 22' (6.71 m) Bed
*3-Section Hydraulic Gear Pump Counterclockwise Rotation is Standard
*Signal Horn


Included options
101' Four-section Telescopic Boom
1 Piece 29' Jib (101') (G/RS) -Externally Wired A2B
22' Steel Bed with 1/8" thick Steel Thread Plate
Standard Mount Installation
3 Section Vane Pump Clockwise Rotation (Required with Automatic Transmissions)
Hotshift PTO (Required with Automatic Transmission)
Drive Shaft for Pump Installation (Required with Automatic Transmission)
15 ton 1-Sheave Quick Reeve Block for 2-3 part line 9/16" Rope
Chassis Mounted Hydraulic Reservoir (in lieu of standard)
Front Center Stabilizer (Requires Additional Mounting Charge)


Year: 2023
Capacity: 26.00
Condition: New
Unit #: BM-4034
Serial #: 307532
Location: Houston Texas USA