2019 National NBT45-142 Boom Truck Crane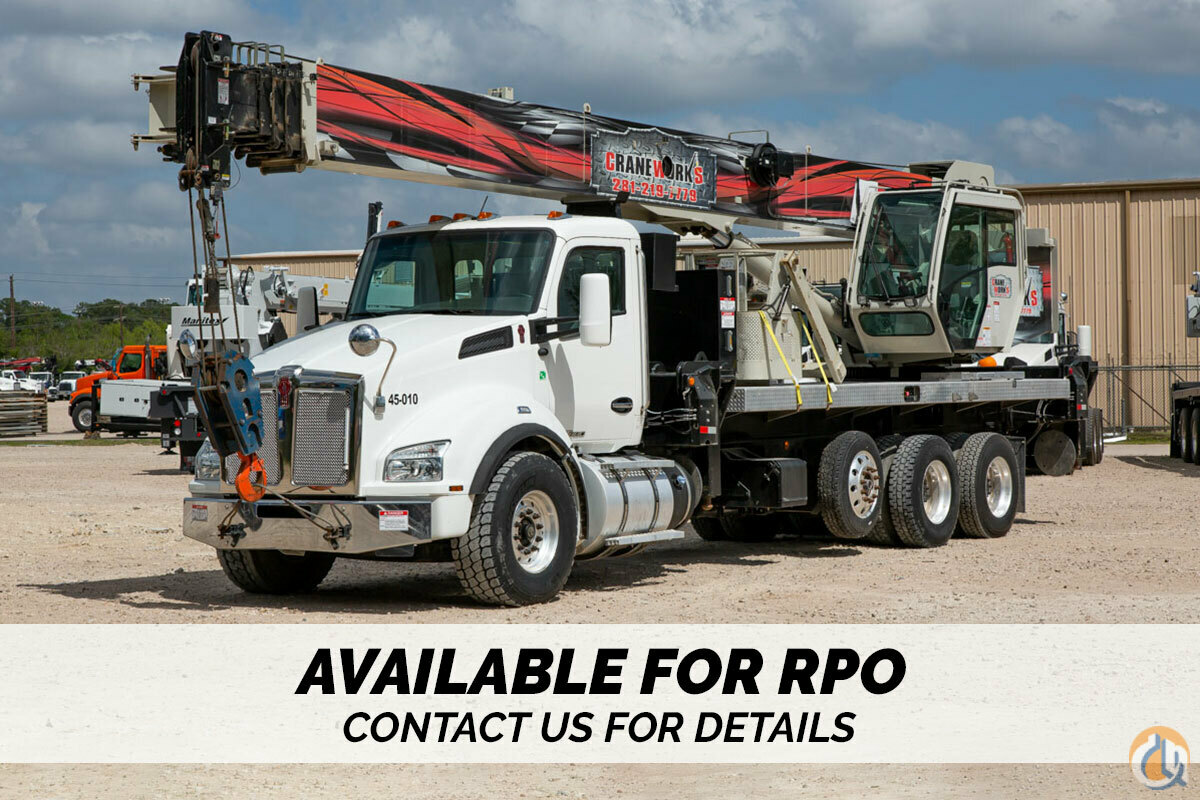 ---
CraneWorks, Inc.
Sales Dept.: 866-458-5915
Last Updated: 28 May 2023
---
Location: Houston, Texas, United States
Year: 2019
Capacity: 45.00
Boom/Jib: 142
Hours: 1546
Condition: Very Good
Serial #: 302045
Unit #: 45-010

---
Benefits
Dual-rating versatility
- Fully compliant with both crane and aerial lift industry standards as well as OSHA
- ROI and utilization benefits as a 45 USt (40,8 t) crane and 1200 lb (544 kg) platform capacity aerial lift
- More efficient setup and operation – no test weights, no trial lifts or proof loads
- Ultimate tool for your fleet
Simpler, Smoother, Smarter operation
- Graphical RCL for ease of setup in both crane and aerial modes
- Proportional joystick control in operator cab and fully adjustable single-axis joystick in the aerial lift platform
- Aerial controls feature quick setup features, real-time feedback of operating range and wind speed plus automatic function slowdowns when approaching the extents of the working range
- Standard emergency lowering system with aerial lift package
Enhanced Access/Egress and Setup
- Strengthened decking, improved ladders for easier access
- Lighter polymeric outrigger floats are easier to use and less prone to theft when on the job
Field-hardened, NBT40 Series DNA
- Installed base of over 1000 machines and counting
- Proven standard for the boom truck market
Cab controls
- Armrest controls with single-axis hydraulic joystick controllers for main crane functions
- Functions arranged to comply to ASME B30.5
- Hand-held outrigger control pendant with umbilical cable to allow the operator the best view of the outriggers during setup
- Electric outrigger and stabilizer control
- Foot controls for
- Engine throttle (electronic)
- Dynamic swing brake (hydraulic)
- Standard features include
- Heater and air-conditioning
- Windshield wiper and washer
- Skylight wiper
- Cab-mounted work lights
Outriggers
- Horizontal out and down with a 24.6 ft (7,50 m) fullspan, 17.5 ft (5,34 m) mid-span and fully retracted span
- Equipped with 20 in (508 mm) diameter lighter weight polymeric outrigger pads
- Equipped with an outrigger in-motion alarm and Outrigger Monitoring System
Winch
- Two-speed high performance planetary winch with drum rotation and last layer indicators
- 450 ft (137,2 m), 5/8 in (16 mm) rotation resistant wire rope which has a 11,250 lb (5102,9 kg) single line pull
Boom/Jib
- Boom length: 142 ft (43,3 m)
- Jib length: 31 ft - 55 ft (9,4 m - 16,7 m)
---
This crane was posted by:


CraneWorks, Inc.
www.Crane-Works.com
Contact: Sales Dept.
Phone: 866-458-5915
Fax: 713-491-9359
0 views this week
0 people have saved
Benefits
Dual-rating versatility
- Fully compliant with both crane and aerial lift industry standards as well as OSHA
- ROI and utilization benefits as a 45 USt (40,8 t) crane and 1200 lb (544 kg) platform capacity aerial lift
- More efficient setup and operation – no test weights, no trial lifts or proof loads
- Ultimate tool for your fleet
Simpler, Smoother, Smarter operation
- Graphical RCL for ease of setup in both crane and aerial modes
- Proportional joystick control in operator cab and fully adjustable single-axis joystick in the aerial lift platform
- Aerial controls feature quick setup features, real-time feedback of operating range and wind speed plus automatic function slowdowns when approaching the extents of the working range
- Standard emergency lowering system with aerial lift package
Enhanced Access/Egress and Setup
- Strengthened decking, improved ladders for easier access
- Lighter polymeric outrigger floats are easier to use and less prone to theft when on the job
Field-hardened, NBT40 Series DNA
- Installed base of over 1000 machines and counting
- Proven standard for the boom truck market
Cab controls
- Armrest controls with single-axis hydraulic joystick controllers for main crane functions
- Functions arranged to comply to ASME B30.5
- Hand-held outrigger control pendant with umbilical cable to allow the operator the best view of the outriggers during setup
- Electric outrigger and stabilizer control
- Foot controls for
- Engine throttle (electronic)
- Dynamic swing brake (hydraulic)
- Standard features include
- Heater and air-conditioning
- Windshield wiper and washer
- Skylight wiper
- Cab-mounted work lights
Outriggers
- Horizontal out and down with a 24.6 ft (7,50 m) fullspan, 17.5 ft (5,34 m) mid-span and fully retracted span
- Equipped with 20 in (508 mm) diameter lighter weight polymeric outrigger pads
- Equipped with an outrigger in-motion alarm and Outrigger Monitoring System
Winch
- Two-speed high performance planetary winch with drum rotation and last layer indicators
- 450 ft (137,2 m), 5/8 in (16 mm) rotation resistant wire rope which has a 11,250 lb (5102,9 kg) single line pull
Boom/Jib
- Boom length: 142 ft (43,3 m)
- Jib length: 31 ft - 55 ft (9,4 m - 16,7 m)
Year: 2019
Boom: 142'
Capacity: 45.00
Condition: Very Good
Hours: 1546
Unit #: 45-010
Serial #: 302045
Location: Houston Texas USA
View the manufacturer specifications here: National NBT45-142 Specs