Equipment Specifications:
Year:
1999
Boom/Jib:
30'-94'/32'-49'
Capacity:
40.00
Condition:
Good
Unit #:
835
Serial #:
11142
Hours:
Inquire
Location:
California, USA
---
Seller Info: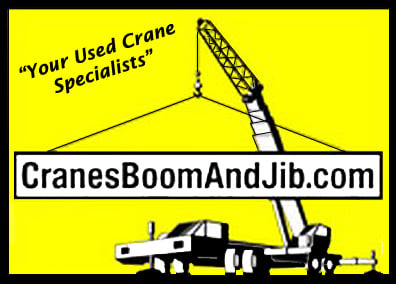 CranesBoomandJib.com
Jeffery L. - Equipment Inventory Manager
P: 562-438-8630
F: 562-438-8630
Address: 3350 East 7th Street, Long Beach 90804, CA
---
1999 Terex T 340 Hydraulic Truck, CB&J#835,
30'-94'  Four Section Full Power Boom with Quick Reeve Boom Head with Auxiliary Lifting Sheave
32'-49' Tele-side-stow Jib, Off-Settable (0°, 15°, 30°)
Main and Auxiliary Winch with Winch Rollers and 5/8" Wire Rope
Drum Rotation Indicators, Two Speed, Anti-Two Block, Greer Rated Capacity Indicator
Johnson 4 Sheave, 40 Ton Hook Block
5 - 8.5 Ton Ball
Lever Control in Operator Cab
Windshield Wiper on Operator Cab Roof
Working Lights on Boom and Operator's Cab
8' Wide Terex 3 Axle Carrier
Cummins ISL 285 Engine
Allison Automatic Transmission
Front Tires: 425/65R 22.5  with 90% Remaining as of 1.2017
Rear Tires: 11R 22.5 with 80% Remaining as of 1.2017
Diamond Plate Rigging Boxes
Aluminum Storage Boxes
Aluminum Diamond Plate Decking
Front Bumper Counterweight
Heavy Lift Package
Aluminum Outrigger Pads
Multi-Position Out & Down Outriggers
5th Front Outrigger
Spreader Bar Not Included
Cosmetic Condition: Sheet Metal and Glass are Good, Minor Rust, No Dents.
Certification: Annual Due 9.2017, Quadrennial Due 9.2020
Registered with CARB (maximum of 10,000 miles a year)
Crane shown as trade in!
Contact Casey Dennehy 949.275.7167 for more information.
www.CranesBoomandJib.com LLC
Last Updated: 01 Nov 2017