2022 Manitex AL68 DE Aerial Man Lift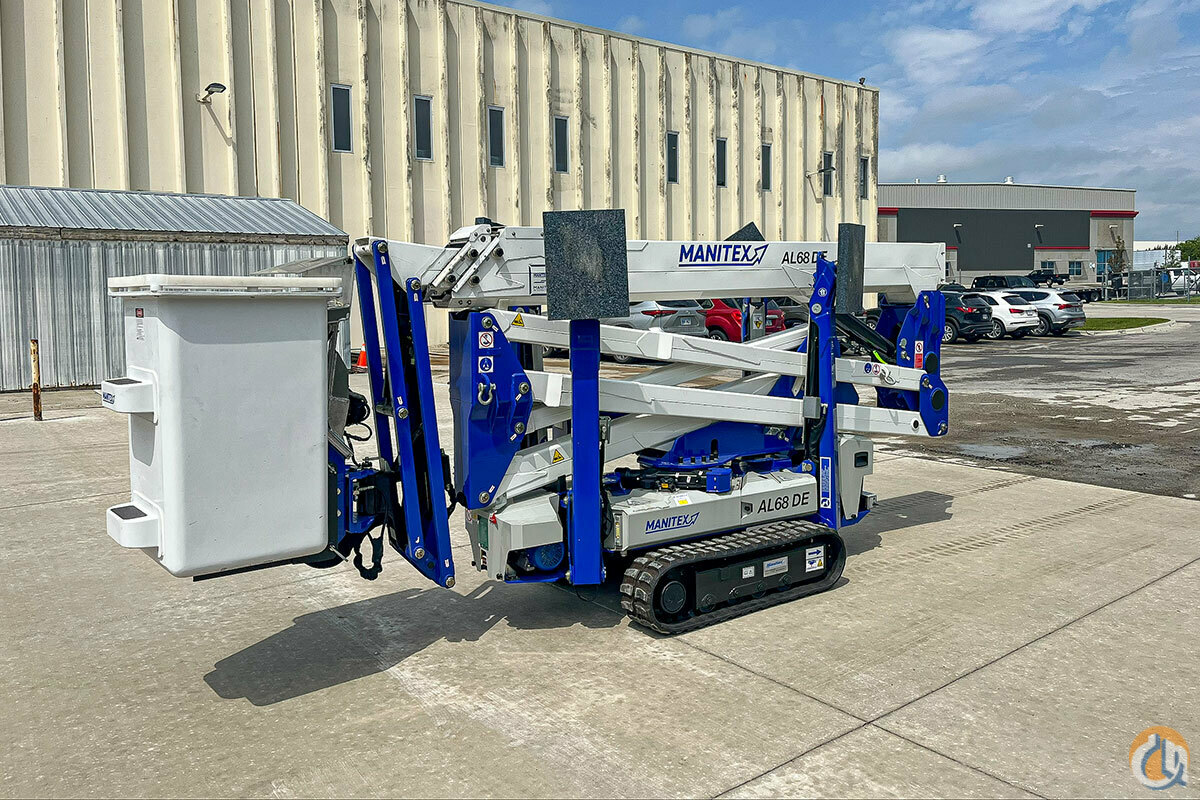 ---
CraneWorks, Inc.
Sales Dept.: 866-458-5915
Last Updated: 09 Dec 2023
---
Location: Olathe, Kansas, United States
Year: 2022
Capacity: 0.00
Condition: New
Serial #: 240562111
Unit #: BM-4754

---
Product video
Manitex AL68 Track Mounted Aerial Lift with Diesel/Electric Power
Specs
- Capacity: 550 lbs
- Max Working Height: 68'
- Starting Battery: 95 Ah AGM
- Basket Rotation: 150°
- Power: Diesel (Hatz 10HP) / Electric (110V – 12A)
- Boom: Pantograph Movement with a wide range of work area. 68 feet working height
- Operator Basket: 55″ Long, 28″ Wide, Aluminum Basket.
- Safety belt: Fasteners inside the basket for safety harness tie off points.
- Basket Leveling: Automatic and manual control to level the basket.
- Controls System Features: Hydraulic controls that can run several functions at simultaneously.
- Outriggers: 4 Self leveling outriggers with high penetration. Tracks will be 25″ off the ground.
- Basket Controls: Proportional hydraulic controls are located in the basket, protected by fixed guards. Hand pump for emergency lowering. Located in the column.
Standard Equipment
- Proportional controls with wired remote
- Tracks driven by variable displacement motors and braking system
- Tracks can be widened by 15" to increase stability while traveling
- 95 Ah AGM Starting Battery
- 11.5 US gal oil tank
- Easy access throughout the unit with quick remove doors and covers
- Automatic stabilization and slope sensor
- Emergency lowering valves and hand pump
- 4' 6" wide aluminum basket with integrated ladder
- 110V socket in the basket
- USB plug in the basket
- High durability tracks
- 4" Display on the ground control station
- All wiring inside to boom to protect from damage
- Jib stow function to increase departure angle
- Electronic speed control
- 3 travel speeds
- Engine start/stop switch on the ground control station
- Manual controls on the ground control station
- Bypass key to override the safety features in case of emergency
- Quick remove basket with built-in caster wheels
- Master/Slave hydraulic basket leveling
- Engine Start/Stop from the Ground Control or the Remote
- Holding valves on all cylinders
- Pressure relief valves Hour meter
---
This crane was posted by:


CraneWorks, Inc.
www.Crane-Works.com
Contact: Sales Dept.
Phone: 866-458-5915
Fax: 713-491-9359
0 views this week
0 people have saved
Product video
Manitex AL68 Track Mounted Aerial Lift with Diesel/Electric Power
Specs
- Capacity: 550 lbs
- Max Working Height: 68'
- Starting Battery: 95 Ah AGM
- Basket Rotation: 150°
- Power: Diesel (Hatz 10HP) / Electric (110V – 12A)
- Boom: Pantograph Movement with a wide range of work area. 68 feet working height
- Operator Basket: 55″ Long, 28″ Wide, Aluminum Basket.
- Safety belt: Fasteners inside the basket for safety harness tie off points.
- Basket Leveling: Automatic and manual control to level the basket.
- Controls System Features: Hydraulic controls that can run several functions at simultaneously.
- Outriggers: 4 Self leveling outriggers with high penetration. Tracks will be 25″ off the ground.
- Basket Controls: Proportional hydraulic controls are located in the basket, protected by fixed guards. Hand pump for emergency lowering. Located in the column.
Standard Equipment
- Proportional controls with wired remote
- Tracks driven by variable displacement motors and braking system
- Tracks can be widened by 15" to increase stability while traveling
- 95 Ah AGM Starting Battery
- 11.5 US gal oil tank
- Easy access throughout the unit with quick remove doors and covers
- Automatic stabilization and slope sensor
- Emergency lowering valves and hand pump
- 4' 6" wide aluminum basket with integrated ladder
- 110V socket in the basket
- USB plug in the basket
- High durability tracks
- 4" Display on the ground control station
- All wiring inside to boom to protect from damage
- Jib stow function to increase departure angle
- Electronic speed control
- 3 travel speeds
- Engine start/stop switch on the ground control station
- Manual controls on the ground control station
- Bypass key to override the safety features in case of emergency
- Quick remove basket with built-in caster wheels
- Master/Slave hydraulic basket leveling
- Engine Start/Stop from the Ground Control or the Remote
- Holding valves on all cylinders
- Pressure relief valves Hour meter
Year: 2022
Condition: New
Unit #: BM-4754
Serial #: 240562111
Location: Olathe Kansas USA
Rental Prices
Please contact the dealer for pricing -- 1-866-458-5915